The Internet of Things (IoT) helped make a huge technological breakthrough in all areas, and education is no exception. As Internet access becomes more ubiquitous in schools and universities, the IoT provides new opportunities to enhance student engagement and improve learning outcomes. In addition, the IoT can be used in a variety of educational contexts, such as online courses, virtual classrooms, and even traditional classrooms.
Discover the mind-blowing ways in which the Internet of Things is revolutionizing education! From cutting-edge EdTech projects to real-world examples, this article will unveil all the secrets to enhancing the schooling process with IoT.
Pros of IoT in education
Implementing the Internet of Things technology brings a vast amount of benefits for all learning process participants. However, before we get into the details, let's look at the benefits of IoT in education.
Student
The Internet of Things makes it much more manageable for all learners to educate and brings the following benefits:
Adaptable, personalized learning
The ability to get an education anywhere
Improved concentration on the education process
Better learning outcomes
Instructors
Whether it's schools or universities, the teacher acts as an instructor. The IoT provides such pros for them:
Material delivery is simplified with digital devices
Sufficient attention span
Simplified monitoring of education
Expanded opportunities to implement new learning approaches
Administration
Except for the direct academic process participants, administrators of educational institutions also profit from the Internet of Things:
Room conditions tracking with smart devices
Higher level of security
Improved Learning Management System (LMS)
The advantages of IoT in education could continue as the possibilities for its use increase as the technology develops. Moreover, education software development companies actively use IoT to create modern solutions for schools and universities.  
Know more: The Future of VR and AR in Education
What Solutions Are Offered by the internet of things in education?
IoT has many applications in the field of education, helping to solve a large number of different daily tasks. Let's explore the main ones.
Better communication
Communication networks are an integral part of the IoT. These networks include various communication technologies like Wi-Fi, Bluetooth, and cellular. In addition, these networks deliver the required connections for data exchange between different devices.
These networks facilitate communication between teachers, students, and parents through specific educational applications. For instance, IoT networks streamline two-way contact between instructors and students, allowing them to share information, resources, assignments, lectures, tests, grades, and more. It also allows parents to stay in touch with their children's education by tracking their progress in real-time and getting alerts when something doesn't go according to plan.
A new generation of textbooks
Paper textbooks are no longer the only study method in the digital age. IoT technology allows access to educational material anywhere from any student's device. For instance, smart textbooks can be accessed through cell phones, tablets, or interactive whiteboards in the classroom. In addition, all topic updates and additional learning resources will be made available to students in real time as soon as the teacher adds them. To access these textbooks, students only need to scan the QR code.
Collecting and analyzing data
One of the primary IoT solutions features is data collection and proceeding. Utilizing sensors, devices, and technology, educational institutions can manage data such as attendance, grades, use of resources like textbooks or computers, and teacher effectiveness. This information can improve student learning results, allowing educators better understand their scholars and make more informed decisions.
Also, the IoT uses RFID-tagged wristbands to provide information about individual users. Teachers can quickly access their students' attendance information using mobile devices for the sample. In addition, using these devices allows the teacher to assess each student's progress and identify each student's weaknesses. Another way to use IoT is to install beacons near each classroom. They will record each student who enters, mark their risk and transmit lesson information to everyone's devices.
Improved security
Security is critical for all academies, regardless of size or location. It is standard protocol to have guards at the entrance to every institution. However, they can't keep order on every school grounds. Biometric systems (such as facial recognition at gates), beacons, and wristbands can help prevent intrusions and disturbances at schools, colleges, and campuses.
In addition, using identification cards for campus entry can reduce the likelihood of intruders entering. Moreover, many schools have equipped their school buses with GPS trackers, allowing parents and school managers to keep track of their children's whereabouts.
Better school management
Administrators must monitor many processes, including the order in classrooms and hallways, academic performance and attendance, etc. In addition, they are responsible for preserving school equipment such as blackboards, computers, etc. Using IoT, namely various RFID tags or innovative home technologies, school management becomes much more accessible and efficient.
Thus, the Internet of Things allows you to solve many daily tasks related to the organization and monitoring of the education process. Therefore, it will enable teachers and administrators to focus on the quality of the taught material and the involvement of students in the learning process instead of solving a lot of routine work.  
Read more: How is Virtual Reality Transforming the Education Industry?
Examples of Educational IoT Projects
The following projects are among the top IoT initiatives in the education sector to enhance learning and teaching.
EdModo
EdModo is an educational technology platform that offers educators and learners a secure, private online environment for learning. It provides interactive tools to help teachers manage their classes, assignments, and assessments. Moreover, students can use the platform to collaborate on projects, exchange ideas, and interact in real time.
EdModo also has an Internet of Things component. It allows data collection from various sources and provides real-time analysis and insights. This data can help school administrators make more informed decisions about their classes and the curriculum.
Adding IoT technology to EdModo has revolutionized the approach to education. By leveraging smart devices and connected technologies, educators can customize instruction for their students based on needs analysis and the data collected by sensors embedded in the classroom environment. This allows them to identify areas where a student may require additional help and track student progress.
C-Pen
The CPen is an IoT device that lets students create various projects. It is a small, pen-shaped device that can be used to draw diagrams and write code to control robots, motion sensors, and other electronic components. With the CPen, students can develop their understanding of programming and engineering principles by creating interactive projects that are both fun and educational.
Nymi
Nymi is a wearables technology company that helps educators leverage the power of the IoT to enhance learning experiences. It provides an innovative solution for schools and universities to track attendance, manage grades, and monitor student safety.
Nymi's wearable devices are designed to revolutionize how students learn in the classroom. These wrist-worn wearables utilize a unique biometric authentication system that allows users to quickly and securely verify their identity with just a finger touch. This technology provides greater security for student data and an easy-to-use way for teachers to track student progress.
Learn more: What Are the Top eLearning Trends
Cons of Internet Of Things in Education
Like any other technology, the Internet of Things has drawbacks. Let's consider what they are and how they can be solved.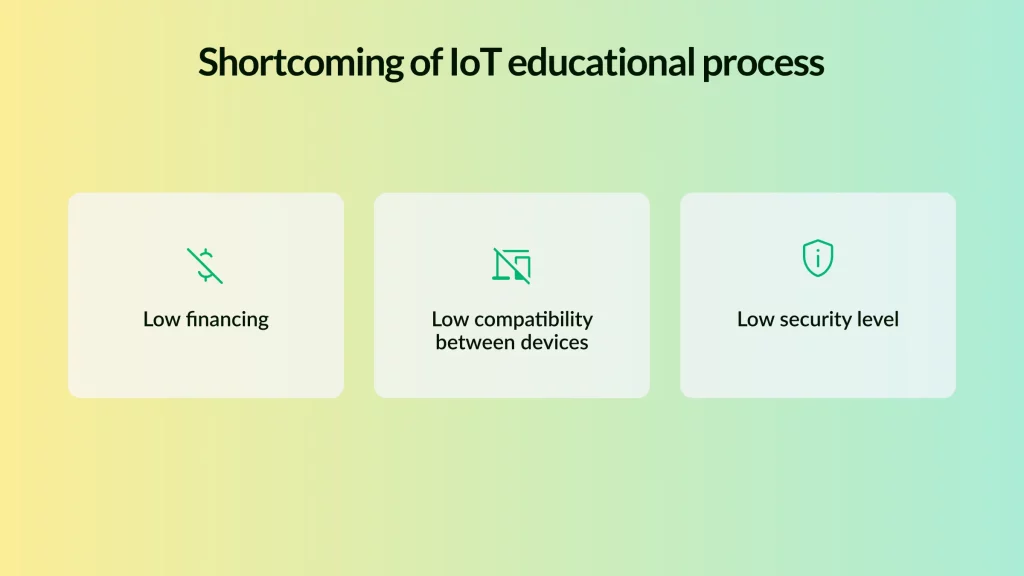 Low financing
Unfortunately, while there are many opportunities that the Internet of Things (IoT) can provide to the education sector, such as potentially improving learning outcomes in schools and universities, low funding levels continue to be a significant obstacle.
These solutions require significant investments in technology infrastructure and trained staff to ensure successful implementation and use of the equipment. This can be challenging for schools with limited funding or resources, as equipment purchases and ongoing technical support can be costly. In addition, regular maintenance and updating of equipment to keep up with the latest technological advances is another challenge.
Nevertheless, interest in IoT technology is overgrowing, so there is a high likelihood of increased funding in the coming years.
Integration
IoT solutions are designed to allow teachers and students to access, monitor, and control various connected devices over the Internet. However, this requires that the instruments used in the classroom be compatible and integrated into one system.
The challenge is ensuring IoT technology is used correctly in educational settings. Ensuring the technology is relevant, up-to-date, and secure can be challenging for educational institutions. In addition, the application of IoT technology in an academic environment poses particular challenges, such as privacy, data management, and cost-effectiveness. Thus, it is necessary to choose an experienced software provider to help select compatible devices and develop specific software. 
Security issue
The IoT network consists of many interconnected devices, and it is worth mentioning that there are no established security standards in place. When one device's security is breached, it can cause failures in the entire network, making it easier for hackers to gain access. Enhancing security measures like authentication tools and strong firewalls can improve device security. However, it is the responsibility of all service providers to ensure proper care.
Bottom Line
The Internet of Things has revolutionized the world of technology we are used to and provides many new opportunities to improve the educational process. Whether you are an administrator of an educational institution or want to create your startup, this is a promising field. Find a trusted software vendor with an immersive experience in educational IoT solutions and partner with them to take education to the next level.
Frequently Asked Questions
What is IoT in education?
The Internet of Things in Education is a network of interconnected devices that can improve the learning process and simplify the management of an educational institution. 
What are the benefits of IoT in education? 
The Internet of things provides benefits for all participants in the educational process.
Students: 
1. Adaptable, personalized learning
2. Accessible education
3. Improved concentration
4. Better learning outcomes
Educators: 
1. Simplified material delivery
2. Sufficient attention span
3. Better education monitoring
4. Expanded opportunities to implement new learning approaches
Administration: 
1. Better conditions tracking
2. Higher level of security
3. Improved Learning Management System (LMS)
How can IoT be applied in education? 
The Internet of Things allows you to solve the following problems: 
1. Improved communication between teachers, students, and parents
2. Access to instructional materials from anywhere
3. Increased security
4. Better school administration
5. Tracking of key metrics
Author's bio:
Yuliya Melnik is a technical writer at Cleveroad. It is a web and mobile app development company in Ukraine. She is passionate about innovative technologies that make the world a better place and loves creating content that evokes vivid emotions.