A speaker is also important for better browsing and gaming experience. But still, if you don't have that much budget to spend on speakers. So you can check some best computer speakers for under 100 dollars for good sound quality in 2021.
Best Computer speakers under 100 $ in 2021
Creative GigaWorks T20 series 2.0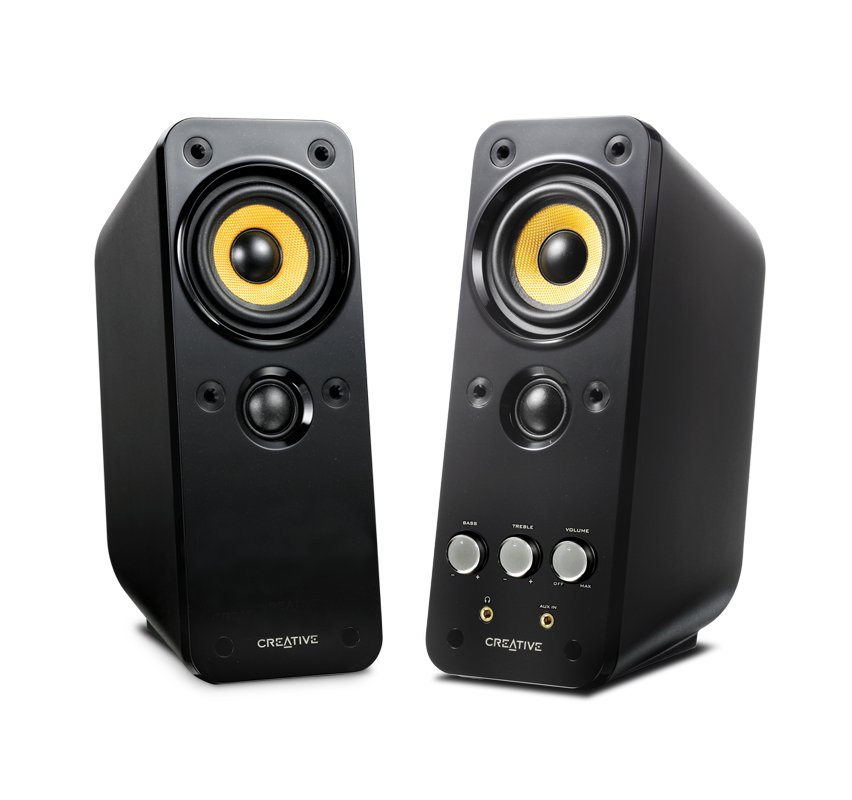 Image Source: Creative
Computer speakers are good for a budget of under 100 dollars. These speakers take less space on your computer table and provide good quality sound to you.
This speaker is also a good replacement for the inbuilt speaker on your computer. It has good glass Fiber Cone drivers. These are great options if you want a natural and good accurate low frequency sounding from your speakers.
Know more: Best graphics cards under 20000 in India
For a better user experience in these speakers, you will get the support of three function keys. With these keys, you can control the bass, treble, and volume of your speakers.
It also supports an external MP3 player as you are getting an Aux-in port in this speaker. Even you can connect these speakers to your TV with the dual RCA-to-stereo adapter for enhancing your gaming and video streaming sound.
In these speakers, you will get an option to connect headphones from the front side. You can connect your phone easily to these speakers with an aux cable. Even the port to connect Aux able from the front side of these speakers.
Unlike the cheapest speaker sets, most of the connections are detachable so a broken cable is easy to replace. The only possible issue is that some might prefer the controls and extra sockets to be on the back or side so don't clutter up the front.
Pros of Creative GigaWorks T20 series 2.0
Luxury looks
Solid construction
Good for price
cons of Creative GigaWorks T20 series 2.0
Unnatural bass
External power pack
Bose Companion 2 Series
Photo by Amazon
These have been a perennial favorite on amazon for a long long time for under 100 bucks for people looking for a great desktop speaker on a budget.
These speakers are not intended to replace or substitute for say studio monitor speakers. They are designed and sold to give your house earth-shaking rattling booming bass not what they're designed to do.
But if you're looking for very airy spacious sound from a compact package from a quality brand then these are going to be pretty tough to beat.
Front of your speaker is your on-off and volume switch there's also a 3.5-millimeter output for plugging headphones into.
Each speaker is 7.5 inches tall 3.1 inches wide 5.9 inches deep so they're not huge. That's one of the reasons some people may like these for their setup.
They each feature a single two and a half inch full-range driver. There is something bose refers to as true space technology which gives it a wider field of sound if you will in this for stereo.
It would describe as making the sound more airy more spacious than what this would make you think it would be.
Pros of Bose Companion 2 Series
Lightweight speakers.
Good sound quality as per this budget.
With headphone jack
Cons of Bose Companion 2 Series
No wireless connection
Short AUX cable
Edifier r1280t powered bookshelf speakers
Photo by amazon
These are an RCA only connector so they don't have some of the more powerful connectors out there that some of the more expensive speakers have.
They do come with a nice remote so it just has uh basically plus and minus button for your volume and then you do have a mute button.
The sound of it is very neutral there's not a whole lot of bass there's almost no bass. Which may mainly that is the limiting factor of my motherboard because used with actual tv in the living room and they sounded much better with a lot more bass.
So Maybe just a motherboard feature that we're lacking there but the sound quality is pretty good it's pretty neutral.
Read more: Vulnerability in Broadcom Wi-Fi chips jeopardizes billions of gadgets
You will get a wooden body are per the sides of this speaker. But at the top is made up of plastic.
It also has an LED indicator below the power button. It also has a six-foot non-detachable power cable in this speaker.
However, you will not get any volume indication in the volume scroller. You have to adjust yourself to the sound level.
Pros of Edifier r1280t powered bookshelf speakers
Removable front panel
Good looking
Great value
Cons of Edifier r1280t powered bookshelf speakers
Fixed power cable
MDF wood construction
Logitech Z337 – Best Computer Speakers Under 100 Dollars
Photo by Amazon
The Logitech double three seven-count with 40 watts RMS 80 Watts peak power two satellite speakers and a subwoofer.
The thing that may be made some choose these pair of speakers is the connectivity by Bluetooth is one less cable to worry about and with the headphone jack disappearing from everywhere having Bluetooth makes the speaker's future-proof.
The design goes the Z double three-sevenths are pretty normal nothing fancy going on here. In terms of design language, the build quality of the speakers is amazing.
Logitech products generally have a good design and build and the center by three sevens are no exception in that matter.
Connect with your phone is also possible with these speakers. Even you will get notified by the speakers when your phone or other device is connected with it.
The bass knob is placed on the backside of the speaker so it may be hard for you to change frequently. It would be much better if the option to change bass is available in the control knob.
A speaker is mostly used to watch videos and playing games. As you need a good speakers for better audio. Similarly, you the best graphics card for r5 3600 to play games.
In these speakers, you will also get an option to connect headphones through control know. The control also has the option to control the volume of the coming from the computer.
Pros of Logitech Z337
Bluetooth available
Easy setup
Looks good
Cons of Logitech Z337
Non detachable cable
Plastic body
Mackie CR3 – Best Computer Speakers Under 100 $
Photo by Amazon
They're fairly small in size but they have a very professional-looking matte finish and the build quality feels very robust. They have a green styling, as well as a green, LED for the volume/power knob.
The first slight turn of the knob is a massive increase in volume the rest of the turn is fairly smooth and consistent.
But if you want to make a small increase in volume on the low end of things it's gonna be rather difficult for you. The front of the powered speaker does feature an auxiliary port and a headphone jack.
The rear of the powered speaker is where you'll find all of your inputs and options it features TRS unbalanced or balanced inputs RCA inputs power switch and a switch for selecting which side the powered speaker is on.
You can also able to connect these speakers from your phone and play music directly. But still, this will be done with an auxiliary cable which is provided by them to connect mobile phones directly.
Volume Knob is given on the front side of this speaker. That makes it easy to control the sound directly from that knob.
Pros of Mackie CR3
Affordable price
Great design
Front input options
Loud as per the size
Cons of Mackie CR3
Bass is not that great
Not best build quality
Conclusion:
Creative GigaWorks T20 series is a great option for a computer speaker under 100 dollars. It gives excellent performance for this budget as a computer speaker. Even it is also a popular product in the market.
For other options, there you will get Bose Companion 2 Series speakers. These are also good in this budget as computer speakers. These speakers offer a clear and crisp sound. Without using a subwoofer, they are giving an excellent sound performance.
So if you like this article feel free to share it with your friends. Now I want to hear from you which of the desktop speaker you liked the most from the list given above let us know by leaving a comment in the comment section.
FAQ's
How to play music from your phone to a computer speaker?
From playing music from your phone you have to unwire your speakers from the computer. Then you have to connect your phone to the speakers with an aux wire. Lastly, power your speaker with a powerband or power switch. Hence you can play music on your mobile to a computer speaker.
What is the use of the speaker on the computer?
A speaker acts as a device when connected with the computer helps to play the sound produced by the computer.